Classical Guitar Sheet Music

There are so many beautiful classical guitar pieces! This page helps you choose and download the best, free classical guitar sheet music.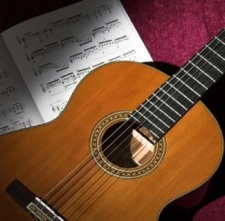 I organized these pieces alphabetically by composer, and gave each one a difficulty rating of 1 - 10, with 10 as the hardest.
Once you click on a piece, you will find a PDF of the music, a list of prerequisites you need to know, and some tips and suggestions on learning each piece.
If you're a beginner, I recommend that you start with the easier pieces, and gradually work towards the more difficult ones. For instance, play a couple of pieces with a Level 2 rating, before you try progressing to the Level 3 rating. Work progressively so you do not feel overwhelmed.
Have fun!
Choose a Piece
Anonymous
Carcassi, Matteo
Sor, Fernando
Tarrega, Francisco
Can't Find a Piece?
Can't find the guitar sheet music you are looking for? Use the search bar below to search Sheet Music Plus, the largest collection of sheet music on the web.
---
Copyright 2014 © ClassicalGuitar101.org | All Rights Reserved